Hello PTZOptics Users!
As many of you know every PTZOptics camera provides pan tilt zoom controls over TCP/IP for far end camera control. The following tips are strategies that you can use to gain far end camera control from IP cameras with type of control. PTZOptics now provides camera control to the far end using both RS-232 (VISCA) and UVC Controls over a USB cable using our new UVC Camera Control Software (or the VISCA version of this software) which will be include in this review.
**Please consult your IT team to determine the best way to gain remote camera control access. You may find your IT team knows exactly what to do to accomplish these simple and secure networking strategies.
Using IP Control TCP/IP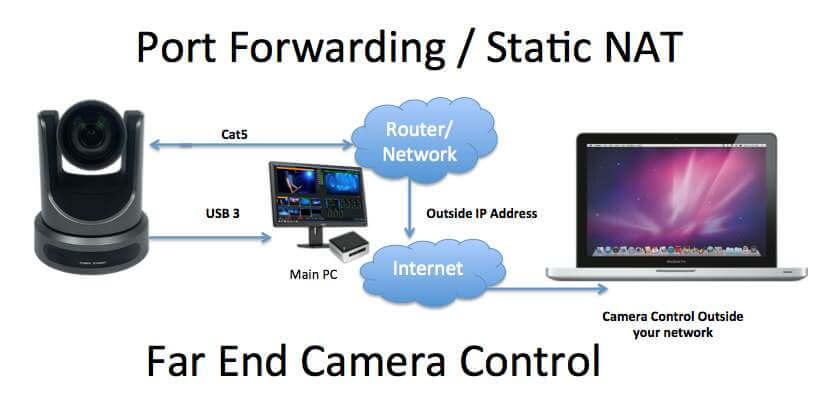 TCP/IP stands for Transmission Control Protocol/Internet Protocol, which is a set of networking protocols that PTZOptics uses for camera control. You can use a Static IP Address on your internal network to control the camera's Pan Tilt and Zoom plus view a live video stream at the same time. PTZOptics offers open source control codes developers can use to take control of multiple cameras with live video (using a VLC plugin).
Let's look at three ways to get IP camera controls available to users outside your network on "the far end". After all, local camera control over your network using a "internal IP address" will most likely not be accessible to far end users of a video conference call.
One example of a far end user would be a broadcast camera operator on a mobile device using 4G network. With open source camera controls you can serve up secure control with ultra-low bandwidth requirements with or without video. The open source code available can be stripped down to basic HTML and JavaScript which can quickly be loaded by any modern web browser. You can keep your hosted controls safe with a multitude of security protocols in your network and firewall. Plus every PTZOptics camera includes a default user name and password protection process for basic security. (more…)